Careers
Below you will find the employment opportunities currently available at Burnett Dairy Cooperative.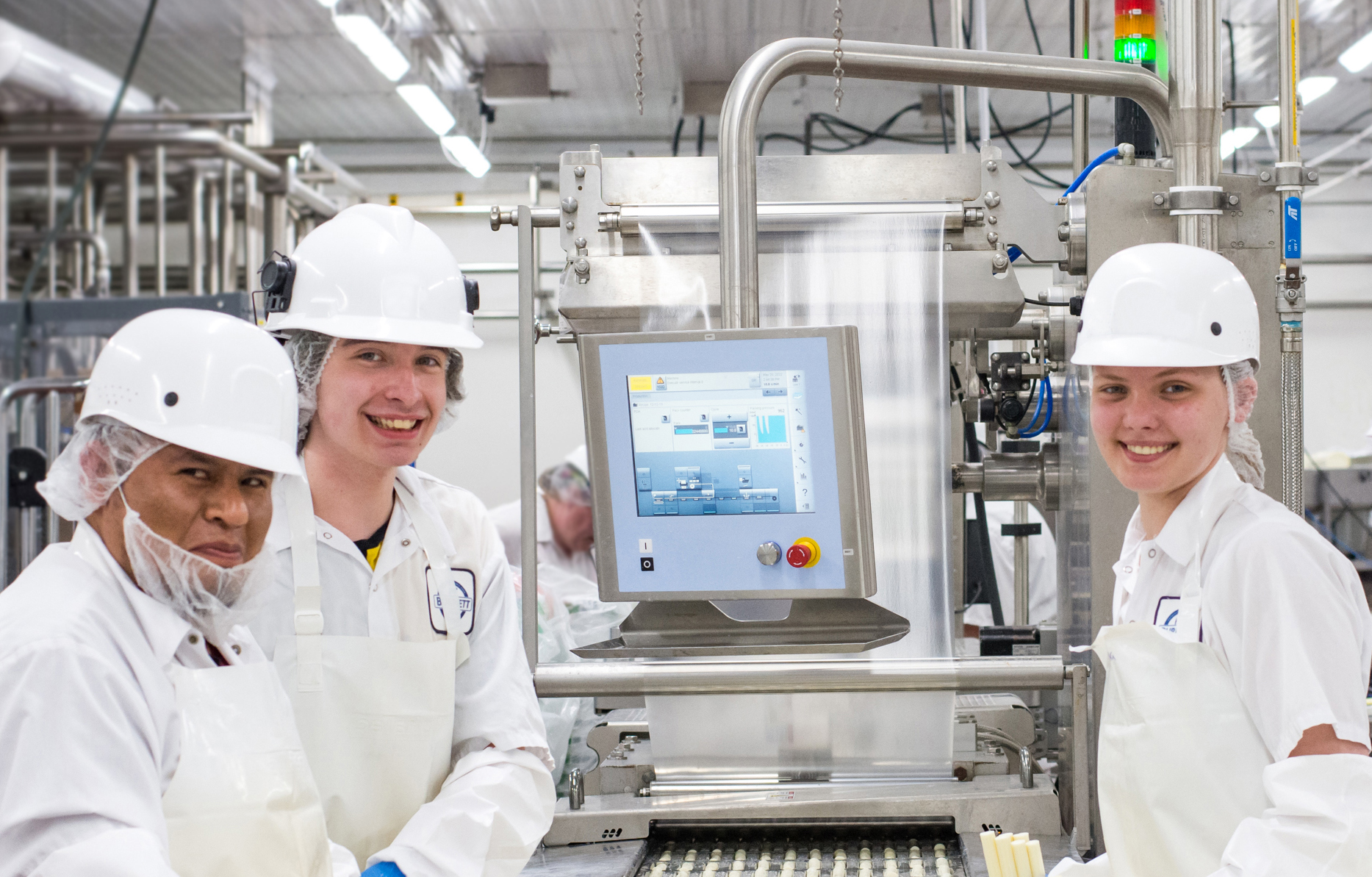 Join a successful and award-winning cheese manufacturing company where your contributions make a difference and there is always an opportunity for growth and advancement!
In addition to competitive wages, an excellent work environment, and a company history of stability and security, Burnett Dairy Cooperative is happy to offer the following benefits:
Health Insurance
Vision Insurance
Dental Insurance
Employer Paid Life Insurance
Employer Paid Long-Term Disability
Paid Vacation and Sick Time after 60 days
Paid Holidays (including your birthday!)
401(k) with generous company match
Profit Sharing
Tuition Reimbursement
Employee Discounts
Not all benefits are available for part-time employees.
---
Current Openings at our Grantsburg location:
---
Customer Sales Support Coordinator
The main functions of the Customer Sales Support Coordinator is to ensure the customer is receiving a high quality, professional service experience as well as providing support to the sales team.  Specific customer service responsibilities include setting up new customers, invoicing, order management and fulfillment, and strong communication with customers.  Being highly organized is a requirement for this position due to managing the number of customers within our sales portal, communicating payment requests, pricing information, and ordering and shipping out samples per the sales team's requests.  Other support offered to the sales team include providing customer scorecard activities, spending updates, coordinating customer communications, managing monthly broker payments and providing necessary reports.  Other requirements for the Customer Sales Support Coordinator include strong problem-solving skills, excellent verbal and written communication skills, strong attention to details, and proficient using data management software and Microsoft Office. This position is onsite, so no remote option is available at this time.  
Inside Sales and Activation Manager
We are looking for a detail-oriented Inside Sales and Activation Manager to contribute to the achievement of sales targets by supporting sales representatives, coordinating sales and marketing activities, and maintaining good customer relationships. This individual needs to be proficient in Salesforce CRM Software and Applications to update the sales team on goals and tracking and maintaining current price lists.  Other responsibilities for this role include supporting the sales team to improve productivity by contacting customers, making appointments, handling communication in the sales representative's absence, and working with marketing on different events and sales promotions. Driving sales includes planning and implementing both food service and retail brand products, performing competitor analysis and tracking, building and maintaining a calendar of events with operators, retailers and distributors. The required knowledge, skills and abilities for this position include: strong problem-solving skills, excellent verbal and written communication skills, strong attention to details, proficient using data management software, Salesforce and Microsoft Office, have the ability to develop relationships, have solid brand building experience, and the ability and flexibility to travel as needed.  A Bachelors Degree (in Communications or Business) is preferred, or at least 4 years of related experience.  
---
Production and Packaging Positions Available
Starting Wages, up to $21.85 per hour!  

No experience needed, we will train!  
---
Makeroom Operator AM & PM Shifts
The Makeroom is a very important piece of Burnett Dairy Cooperative, so we're looking for reliable and hardworking people that have a passion to succeed and exceed, and the desire to learn and grow within our company.  The Makeroom is where the 'magic' of cheesemaking occurs, and as Makeroom Operator you will be responsible for monitoring the cheese making process, taking temps of cooker, Ph and acid levels of cheese, operating machinery, and sanitation.  Must be able to lift up to 65lbs, be self-motivated, and work well with little direction.  There are both AM and PM shifts available. The Makeroom Operator AM works 7a-7p on a rotational schedule of 2 days on 2 days off, 3 days on 2 days off (which includes every other weekend off).  The Makeroom Operator PM works 7p-7a on a rotational schedule of 7 days on, 7 days off (which includes every other weekend off).  Get 7 days off in a row!   
Brine System Operator (4am-4pm)
The Brine System Operator is responsible for the operation of the Brine Room.  Duties include operating and sanitation of the brine system UF, silos, and all related equipment for brine flow.  Monitoring and maintaining brine salinity, pH, and temperature; clean and sanitize tanks, room and equipment.  Must be able to work both independently and as part of a team in a changing work environment. This is a rotational position working 2 days on, 3 days off, 2 days on and includes every other weekend.  The physical requirements include:
Lift up to 60 Pounds; Push/Pull/Stack up to 60 Pounds

Stand on feet for entire shift

Repetitive Motion; frequent use of hands

Occasionally required to climb, balance, stoop, kneel and crouch
---
Skilled/Technical Opportunities
Cheesemaker (1st Shift)
We are currently accepting applications for a Cheesemaker with the skills and ambition to make the highest quality cheeses.  This is a 1st shift, full-time position that works 7am – 7pm on a rotational schedule of 2 days on, 2 days off, 3 days on 2 days off, working every other weekend.  The responsibilities for this position consists of operating machines that pasteurize and cook the milk, monitoring the cooking temperature, and mixing the ingredients following the appropriate cheese recipes.  Must be able to work as part of a team in a changing work environment.  Ability to obtain and maintain a WI Cheesemaker's License is a requirement.  Steady standing, lifting, and stretching is required with the requirements to lift, push, & pull 50 pounds.  Applicants must tolerate a warm work environment and work with little to no supervision while monitoring equipment for long periods of time.  Having strong attention to detail and organization skills are required.
Master Operator-Production
If you are interested in learning the entire cheese making process from the time the milk gets received to being shipped out the door, then the Master Operator position is for you!  The Master Operator is responsible to work where needed within the makeroom, intake, and whey departments of the cheese production facility.  This position is trained to do all the responsibilities of the Makeroom Operator, Cheese Maker, Intake Operator, Whey Operator, and Makeroom COP and CIP. Physical requirements and working conditions include: the ability to Lift/Push/Pull/Stack up to 60 Pounds, stand on feet for entire shift, perform repetitive motion, and must be able to work in hot, humid, damp work environment.  The job requirements include: the ability to function in an active and demanding work environment, obtaining and maintaining forklift certification, and have regular and dependable attendance. 
---
Cheese Innovation Scientist
The role of the Cheese Innovation Scientist is to assist with the execution of R&D projects in order to deliver new cheese products and concepts to expand our core business. This position also helps with scale-up trials, recipe development, and standard operating procedures for production related to new products. Primary responsibilities for this position include:
Research & Development
Assisting with development and commercializing new products and processes including bench top development, pilot plant trials, and production plant trials to achieve business objectives.

Preparing periodic special reports concerning the results of laboratory tests or products development trials including next steps and impact on key business initiatives.

Designing and developing stress and shelf-life systems in support of new product/package development.

Applying experimental design and statistics to sensory research and product development.
Quality Assurance
Working with lab personnel/suppliers/vendors to evaluate ingredients

,

recipes, and processes to ensure the highest quality product

Providing technical support and problem solving on cheese production and product performance issues.

Developing SOPs for scale-up trials and performs audits on new R&D products to ensure they are being produced according to SOPs as well as all specifications.
Miscellaneous
Determining appropriate research methodologies to coordinate, design, plan, conduct, analyze, and interpret in-house tests and consumer research studies (quantitative research) to reduce business risk in decision-making and enhance product knowledge. 

Demonstrating proficiency in analytical, problem-solving skills, and knowledge of sensory methods and techniques (discrimination, descriptive and consumer test methods).

Working efficiently and productively with R&D, QA, Operations, and Supply Chain

Performing other duties as assigned.
The educational requirements for this position are a Bachelor's Degree in Dairy Science, Food Science, or related required with 3-5 years of experience.  A Master's Degree is preferred.  In order to be successful in this position, candidates should have demonstrated analytical experience, specifically for various chemical, sensory and physical properties like protein, calcium, fat, moisture, flavor, texture, shredabilty and meltability.  Demonstrated expert test development knowledge and strong presentation, scientific writing, communication and listening skills are also required.  
---
Agronomy and Co-op Opportunities
---
Seasonal Drivers 
The Agronomy Business Unit is currently accepting applications for the position of Agronomy Driver.  This seasonal position is responsible for tendering fertilizer, tendering water, and delivering fertilizer spreaders to our patrons and local customer farms, regional grain terminals, and between onsite structures within the spring Agronomy season.  The position is 40+ hours/week, and includes weekends.  In the months of April and May, this position will likely be scheduled 7 days a week.  The requirements for this position include the ability to work independently, climb ladders, and occasionally lift up to 50 pounds.  An unrestricted WI class B CDL with Tanker and Air Brakes license is required.  Class A CDL preferred.  Must have a clean driving record. 
---
Current Openings at our Cady Cheese location in Wilson, WI:
---
Ag Sales Specialist
The Agronomy Business Unit of Burnett Dairy Cooperative is currently recruiting for an Ag Sales Specialist position.  This position is responsible for increasing market share and sales in both the Agronomy and Feed departments while maintaining appropriate margins and providing excellent customer service.  While this position involves travel to local farmers and customers, it will be located at our facility in Wilson, WI.  In order to increase sales, this position will implement on farm trials of new products and help show producers the value in BDC's products.  The Ag Sales Specialist will work with producers/farmers on solutions using tools and resources.  This position will also be responsible for promoting and coordinating the sales of crop protecting products, seed, precision technology and all related services within the company credit and pricing policies.  The job requirements for this position include a Bachelor or Associates Degree in Agriculture, Agronomy, or Animal/Dairy Science and 3 years of related experience with nutrition and agronomy management is required.  Having strong customer-service skills, with the ability to develop long term relationships with growers/producers, while working in an active and demanding work environment are also required. Being proficient with Microsoft Suite, precision agriculture software, and ration balancing software is also required.  A minimum of 50% travel is required for this position. 
Burnett Dairy Cooperative Employment Application
Burnett Dairy Cooperative Driver Application
To apply at our Grantsburg location, please complete the job application by clicking on the link above.  You may email your application and/or resume to jobs@burnettdairy.com, or call Sara Trojanowski at 715.689.2010 or Becky Popp at 715.689.2005 for more information. 
To apply at our Cady Location: please complete the please complete the job application by clicking on the link above.  You may email your application and/or resume to jill.filkins@cadycheese.com or call Jill Filkins at 715.689.4403 for more information.