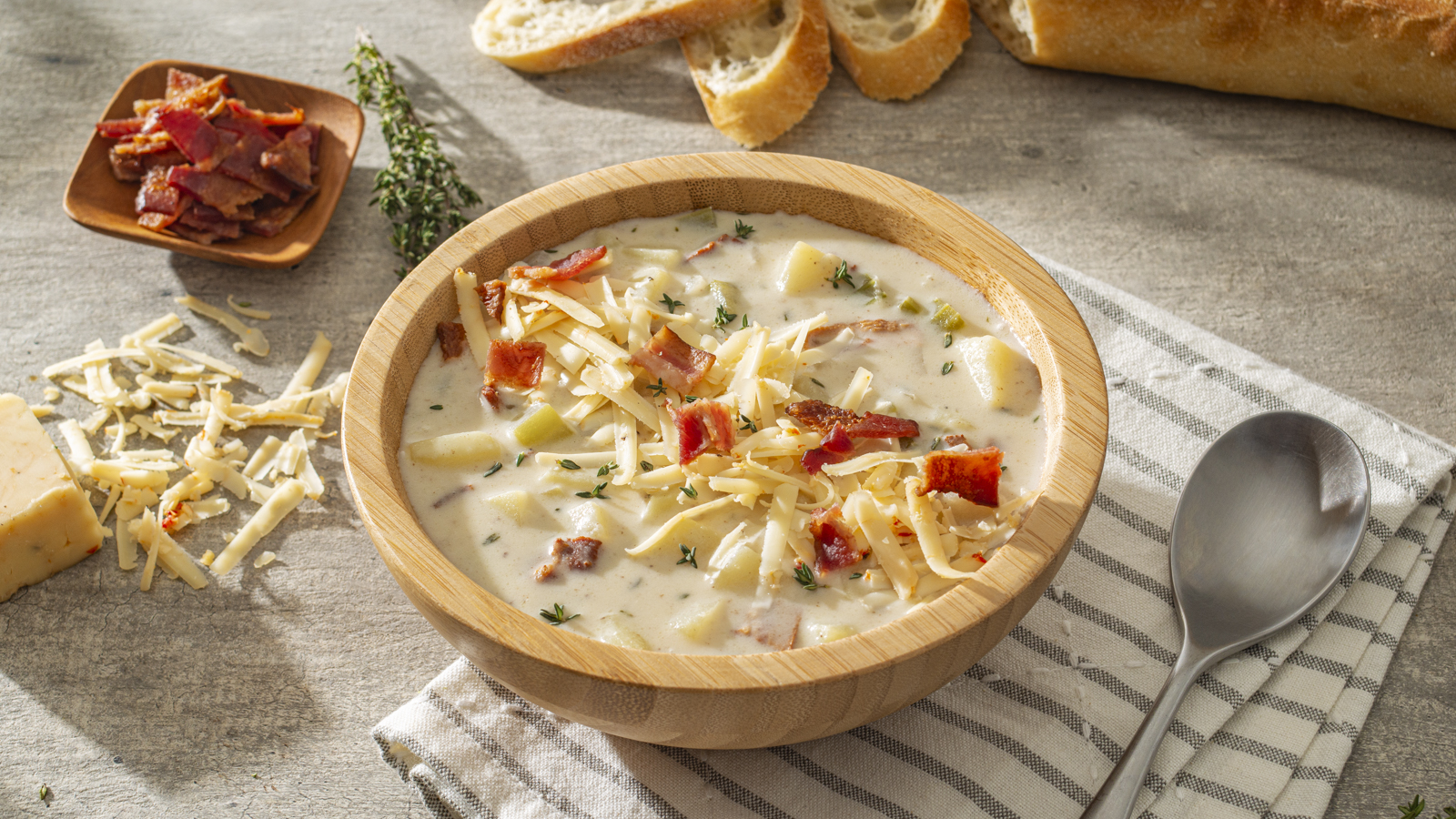 Recipe Description
Warming and comforting, this easy soup is rich, smoky, and loaded with cheese.
Ingredients
4 slices bacon, diced

2 tbsp butter

2 stalks of celery, diced

1 onion, diced

2 tbsp finely chopped fresh thyme

1/2 tsp salt

1/2 tsp black pepper

3 tbsp all-purpose flour

4 cups reduced-sodium chicken broth

1 lb Yukon Gold potatoes, peeled and diced

1/2 cup heavy or whipping (35%) cream

1 1/2 cups Wood River Creamery Roasted Red Pepper & Cracked Peppercorn Cheese, divided  
Preparation
In a large heavy-bottomed saucepan set over medium-low heat, arrange bacon. Cook, turning occasionally, for 4 to 6 minutes or until golden brown and crispy around the edges; transfer to a paper towel–lined plate to drain.

Discard all but 1 tbsp bacon fat in saucepan. Add butter, celery, onion, thyme, salt, and pepper. Cook, stirring occasionally, for 4 to 6 minutes or until starting to soften.

Sprinkle flour over top. Cook, stirring frequently, for 2 to 3 minutes or until smooth. Slowly whisk in broth. Continue to whisk and bring to a boil. Stir in potatoes; bring back to a boil. Reduce heat to medium-low. Cook, stirring occasionally, for 15 to 20 minutes or until potatoes are tender and the soup has thickened.

Just before serving, stir in cream, 1 cup of cheese, and bacon. Serve with remaining cheese.
Tip: For a Cajun twist, add 1 tbsp Cajun seasoning with the butter in Step 2, and add 1/2 cup frozen corn with the cream in Step 4. Stir until heated through.