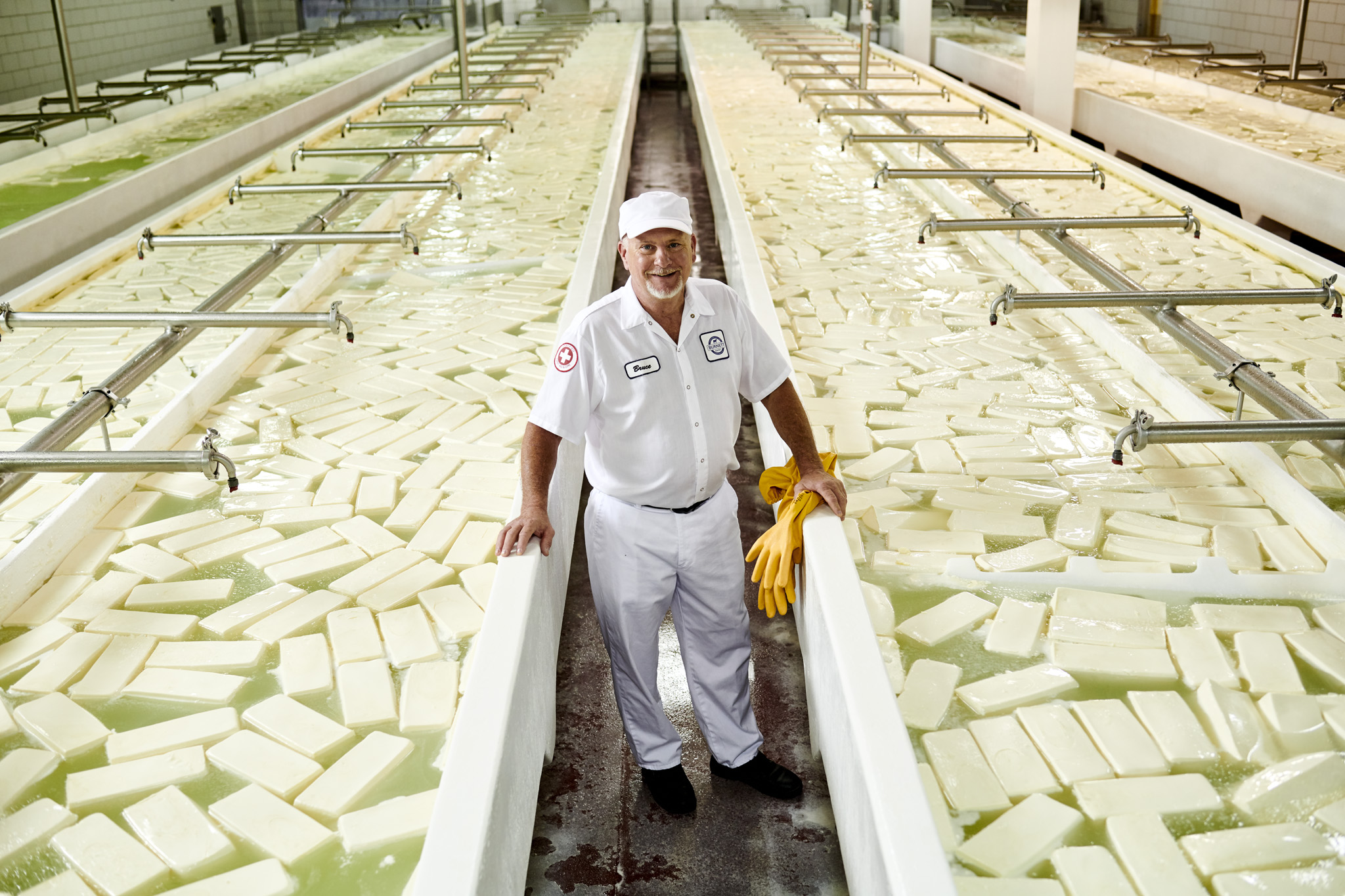 By Wisconsin Cheese
Wisconsin's own action hero of the cheese world makes the other Bruce Willis look like mild cheddar. 
The Real Bruce Willis
Bruce Willis likes to live on the edge. He rides his motorcycle fast. He does all his own stunts. And he makes some of the best cheese on Earth.
"I'm the real Bruce Willis," says the award-winning Master Cheesemaker, who was born five days before the Die Hard star. "He's the actor." 
"There's a lot of science to cheese, more than you would think from the outside looking in," he says. "Playing with that science, experimenting with culture blends and cocktails and developing something brand new was exciting for me."
Bruce has crafted an array of cheesy wonders in his five decades at Burnett, from their World Champion mozzarella string cheese to his own legendary creation – a provolone, cheddar, and alpine-style concoction he dubbed Alpha's Morning Sun. 
"The boss seen what I could do, so he kinda let me play," Bruce recalls. "Cheese takes time...so I played with it for about 3 years before Alpha's Morning Sun was born."
Achieving Master Status
His invention was so popular that it became the foundation for his very own brand, Wood River Creamery. He went on to take his artistry to the next level through the Master Cheesemaker program.
"The Master Program got the juices flowing, and opened up my eyes to a lot of different things you can do with cheese," he says. "So I got artistic with the science."
With four Master certifications (Mozzarella, Colby, Monterey Jack, and Cheddar) and many successful years of cheese wizardry under his belt, Bruce now heads up the pilot plant at Burnett, where he gets to dream up new creations full time.

"Master is kind of an overstatement – because you never really master anything, in my opinion. You can always get better," he says. "There's just so many good cheesemakers to learn from in Wisconsin. It's hard to go bad when you've got so much good to learn from."
The Greatest Reward
Bruce is deeply committed to his craft, usually spending 10 hours a day at the plant. But when he hops on his motorcycle to head home, he's back in wild child mode.
"I've gotten into street bikes – not so much street racing, but twisties as we call 'em – real curvy, hilly roads," he says. "You wouldn't think riding a motorcycle fast around corners would be calming, but it is to me."
Bruce is also a grandfather of nine, an avid gardener, and an expert shot with a crossbow.
"The biggest reward of making cheese is standing back and having people not know I'm there or that I have anything to do with it... and saying wow, this is a really good piece of cheese," he says. "That's the biggest reward right there."
A modest mozzarella master who rides a motorcycle? It's safe to say we're lifelong members of the Bruce Willis Fan Club. 

Source: Wisconsin Cheese - https://bit.ly/37AFjD5