Cheesy Tater Tot Casserole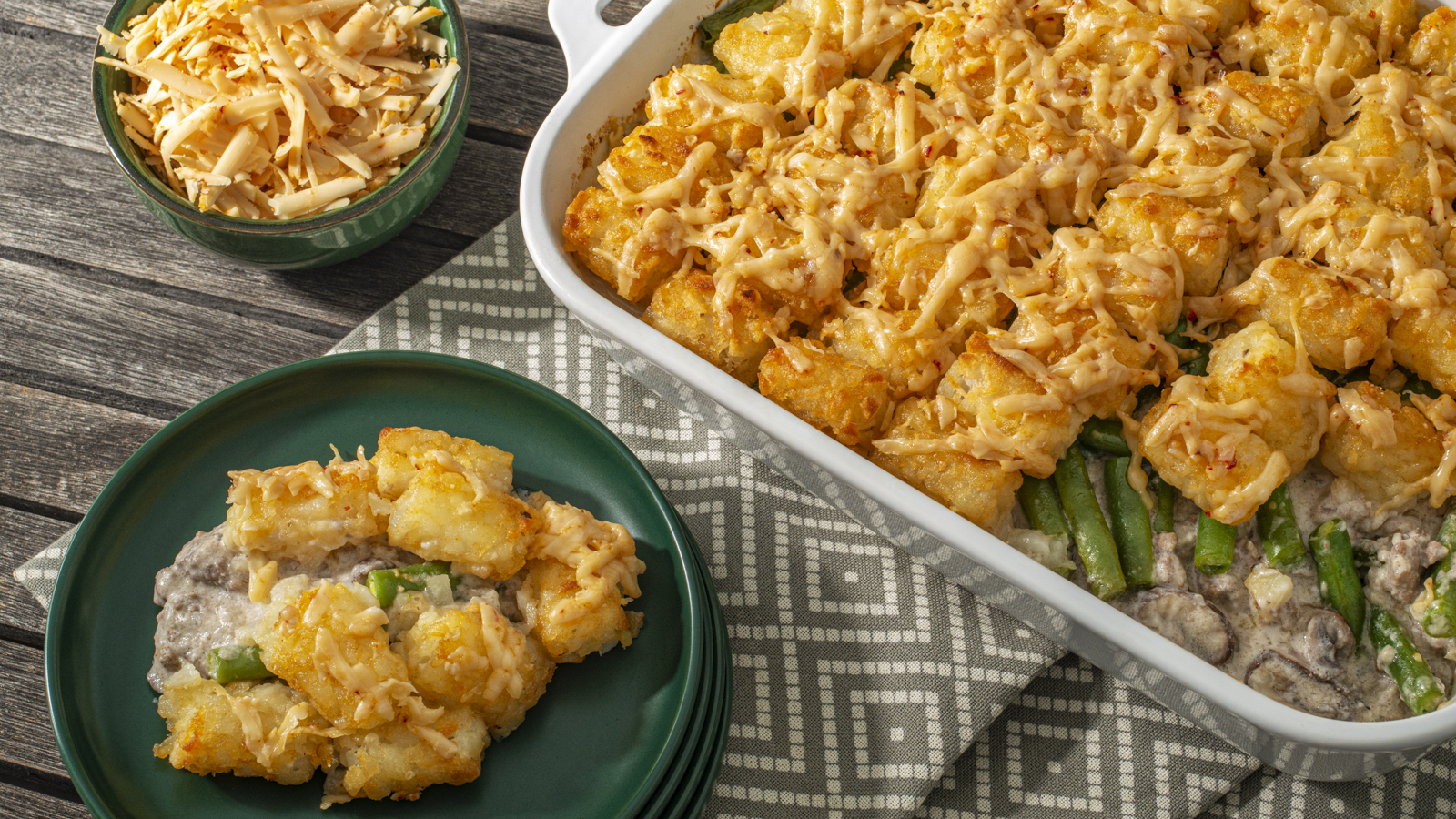 Recipe Description
With beef, mushrooms, green beans, and tater tots, this comforting casserole makes a satisfying weeknight dinner that everyone will love.
Ingredients
2 tbsp butter

1 lb lean ground beef

1/2 tsp salt

1/2 tsp black pepper

1 onion, diced

8 oz mushrooms, sliced

2 cloves garlic, minced

1 can (10 oz) condensed cream of mushroom soup

1/2 cup sour cream

2 cups shredded Wood River Creamery Chipotle Garlic Cheese, divided

8 oz green beans, cut into 1-inch pieces

1 pkg (16 oz) frozen tater tots
Preparation
Preheat oven to 375°F
In a large skillet set over high heat, melt butter. Add beef, salt, and pepper; cook, stirring and breaking up beef with a wooden spoon, for 5 to 8 minutes or until starting to brown. Stir in onion, mushrooms, and garlic. Cook, stirring occasionally, for 5 to 8 minutes or until vegetables are tender. Remove from heat. Stir in condensed soup and sour cream until combined. Stir in 1 cup of cheese.

Spread beef mixture in the bottom of greased 11 x 7-inch baking dish. Top with an even layer of green beans and an even layer of tater tots.

Bake for 40 to 45 minutes or until tater tots are starting to brown and toast. Sprinkle with the remaining cheese. Bake for 10 to 15 minutes or until the casserole is bubbling, the tater tots are golden brown and cheese has melted.