Cinnamon Apple Pie Cheddar Tart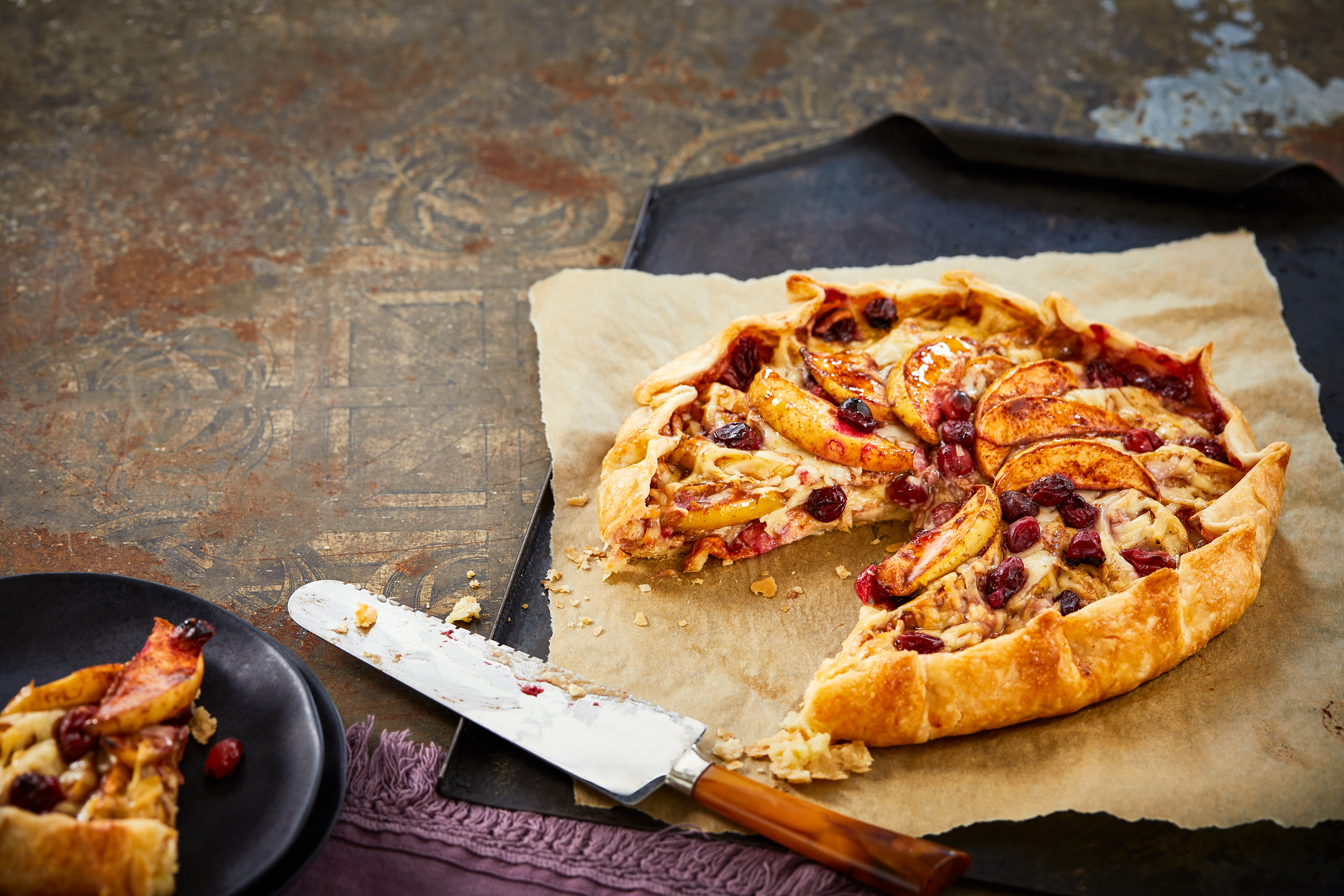 Recipe Description
In some regions of the U.S., topping apple pie with cheddar cheese is as popular as serving it with ice cream. This rustic holiday tart celebrates tradition with the Original Cheddar Gruyere.
Ingredients
1 sheet refrigerated pie pastry

2 medium tart apples, cored and cut into 1/4-inch slices

6 tablespoons plus 1 1/2 teaspoons sugar, divided

2 teaspoons cornstarch

1 1/2 teaspoons apple pie spice

1 teaspoon cinnamon

8 ounces (1 block) Wood River Creamery Original Cheddar Gruyere, shredded

1/2 package (4 ounces) Original Cream Cheese, softened

1 large egg, separated

1/2 cup fresh or frozen cranberries, thawed and divided
Preparation
Heat oven to 375°F.

Roll out pie pastry on a lightly floured surface to an 11-inch circle. Transfer to a parchment paper-lined baking sheet.

Place apples into a bowl. Combine the 2 tablespoons sugar, cornstarch, apple pie spice and cinnamon in a small bowl. Sprinkle over apples; gently toss to coat. Set aside.

Beat 1 cup shredded Cheddar Gruyere cheese, cream cheese, egg yolk and 4 tablespoons sugar in a bowl until smooth. Spread cheddar mixture in the center of pastry to within 2 inches of edges. 

Spoon half of the reserved apple slices in a single layer over filling. Sprinkle with remaining cheddar and 1/4 cup cranberries. Top with remaining apple slices and cranberries. Fold pastry edges up over filling. (Center will be uncovered.) Lightly beat egg white; brush over pastry. Sprinkle pastry and filling with remaining sugar.

Bake for 30-40 minutes or until filling is bubbly and crust is golden brown. Let stand for 15 minutes before serving.
          Recipe and photo by the Dairy Farmers of Wisconsin