Creamy Poblano-Chicken Enchiladas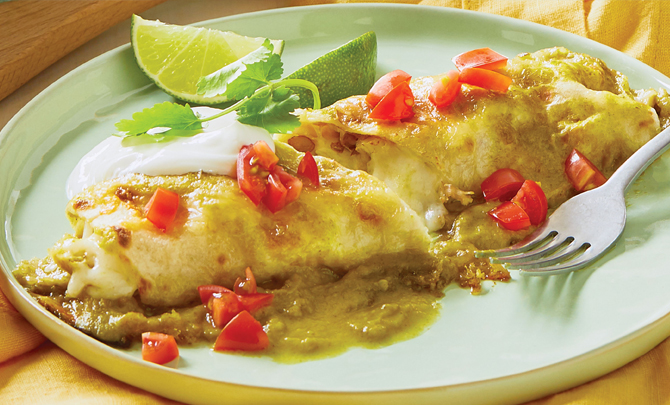 Recipe Description
A staple in every house! Cheesy chicken enchiladas are a big YES!
Ingredients
5 medium poblano peppers
1 medium onion, peeled and quartered
5 garlic cloves, peeled
1 tablespoon olive oil
1 1/2 cups chicken stock
1/2 cup heavy whipping cream
Salt and pepper to taste
4 cups shredded cooked chicken
1 can (16 ounces) pinto beans, rinsed and drained
15.5 ounces Burnett Dairy Monterey Jack cheese, shredded and divided (about 3 3/4 cups)
8 flour tortillas (8 inches)
Chopped tomatoes, fresh cilantro, lime wedges and sour cream
Preparation
Heat oven to 400°F.
Place the poblano peppers, onion and garlic on a 15 x 10-inch baking pan. Drizzle with olive oil; toss to coat. Arrange vegetables in a single layer.
Bake for 25-30 minutes or until peppers are lightly charred, turning vegetables once with tongs. Place peppers in a bowl; cover and let stand for 20 minutes. Set onion and garlic aside to cool.
Peel off or rub peppers with a paper towel and discard charred skin. Remove stems and seeds. Coarsely chop peppers.
Place the peppers, onion and garlic in a food processor; cover and process until mixture is smooth. Add chicken stock and cream; cover and process until combined. Season with salt and pepper to taste.
Spread 1 1/2 cups cream sauce in the bottom of a greased 13 x 9-inch baking dish.
Combine the chicken, beans and 3 cups Monterey Jack in a large bowl. Spread about 1 cup chicken mixture down the center of each tortilla. Roll up and place seam side down in baking dish. Top with remaining sauce and Monterey Jack.
Cover dish with greased aluminum foil. Bake for 25 minutes. Uncover; bake for 10 minutes longer or until bubbly and cheese is melted. Let stand for 10 minutes before serving.
Serve with tomatoes, cilantro, lime wedges and sour cream.
Recipe and photo © Dairy Farmers of Wisconsin