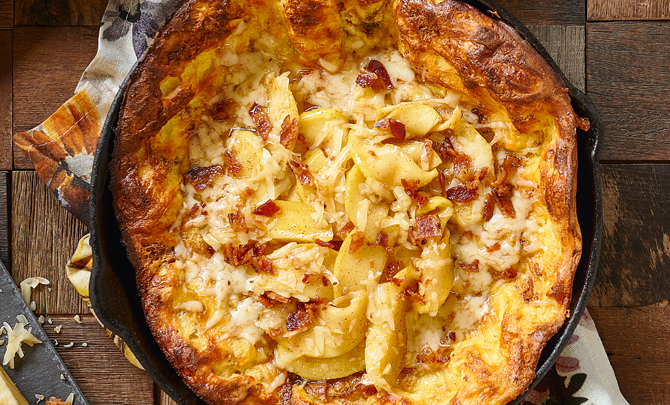 Recipe Description
This impressive Dutch baby puffs as it bakes, and then falls to a tender pancake. It's a breakfast treat—the apple pie filling with bacon and maple syrup cheddar is heavenly.
Ingredients
4 large eggs
1/2 cup whole milk
1/4 cup all-purpose flour
2 tablespoons sugar
2 tablespoons maple syrup
3 tablespoons butter, cubed and divided
6 ounces Wood River Creamery Fenugreek Cheddar Gruyere, shredded and divided (1 1/2 cups)
12 bacon strips, cooked and crumbled, divided
1 apple, peeled, cored and sliced 1/4-inch thick
1/3 cup brown sugar
1/2 teaspoon ground cinnamon
Preparation
Place a 10-inch ovenproof or cast-iron skillet in the oven on the middle rack. Heat oven to 425°F.
Beat eggs in a large bowl until blended. Beat in the milk, flour, sugar and maple syrup until frothy. 
Remove skillet from the oven. (Pan will be hot!) Add 1 tablespoon butter; tilt pan to coat the bottom and sides. Pour batter into the hot skillet. Sprinkle with 1 cup cheddar and 1/2 cup bacon. Bake for 18-22 minutes or until puffed and edges are golden brown.
Meanwhile, melt the remaining butter in a skillet over medium heat. Add the apple, brown sugar and cinnamon; cook and stir for 5-7 minutes or until apple is tender. 
Spoon apple mixture into pancake. Sprinkle with remaining cheddar and bacon. Serve warm.
 
Recipe and photo © Dairy Farmers of Wisconsin