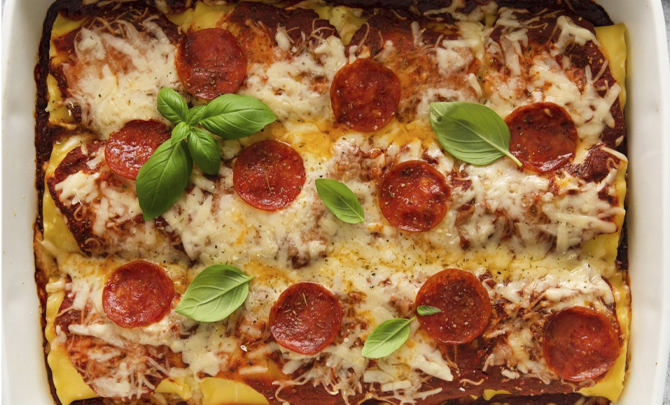 Recipe Description
These pizza lasagna roll ups are everything you love about lasagna with a fun pizza twist!
Ingredients
Homemade Pizza Sauce
15 oz. can tomato sauce
6 oz. tomato paste
¼ cup Italian seasoning
1 teaspoon sugar
Preparation
Preheat the oven to 350℉.
Bring a large pot of salted water to boil. Cook the noodles to al dente according to the package instructions. About 10 minutes. Drain and set aside.
While the noodles are cooking, prepare the pizza sauce. Add all of the ingredients to a medium bowl and mix until combined. Set aside.
Add 1 cup of Cheddar Gruyere, ½ cup of Mozzarella, ricotta, Italian seasoning, and eggs to a bowl and stir to combine. Set aside.
Spray a 9x13-inch casserole dish with cooking spray. Then spread 1 cup of the pizza sauce along the bottom.
To prepare the roll ups, place 1 noodle flat and spread 3-4 tablespoons of the cheese mixture from end to end. Next, lay pepperoni slices on top of the cheese from end to end. Roll up the lasagna and lay seam side down into the pizza sauce.
Continue until all of the noodles have been used.
Spread the remaining sauce on top of the noodles and sprinkle the remaining mozzarella on top of the sauce. Layer the remaining gruyere cheese on top of the mozzarella. If desired, add a few slices of pepperoni to teh top of the cheese.
Bake covered for 20 minutes. Uncover and bake for an additional 10 minutes.
Allow the pizza lasagna roll-ups to sit for 5-10 minutes before serving.
TIPS: The pizza sauce combined with this dish is very rich. I think it makes it perfect and tastes just like pepperoni pizza. Marinara could be subbed or mixed in to cut the richness.
 
**Recipe creation and photo: @cheeseknees