Pumpkin Spice Bread Pudding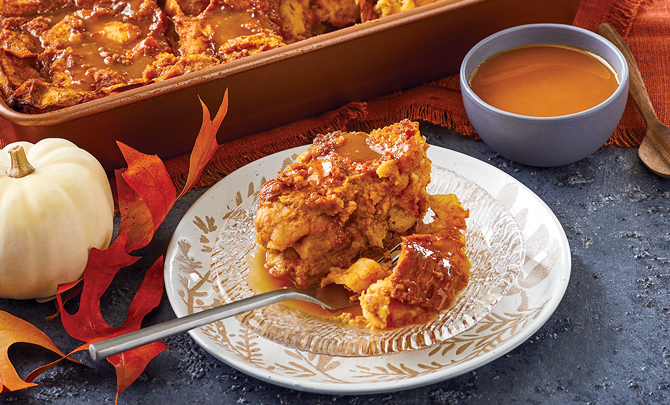 Recipe Description
The rich aroma of pumpkin and caramel with a layer of Gouda over this bread pudding has everyone mouth-watering! 
Ingredients
5 large eggs
1 1/2 cups packed brown sugar
1 tablespoon pumpkin pie spice
3 cups whole milk
1 can (15 ounces) solid-packed pumpkin
2 teaspoons vanilla extract
1 loaf (1 pound) day-old French bread, cut into 1-inch cubes
2 cups (8 oz) Burnett Dairy Gouda, cubed
1 jar (16 ounces) salted caramel sauce, divided
Preparation
Heat oven to 350°F.
Beat the eggs, brown sugar and pumpkin pie spice in a large bowl until blended. Stir in the milk, pumpkin and vanilla until smooth. Fold in bread. Let stand for 10 minutes.
Spoon half of the bread mixture in a greased 13 x 9-inch baking pan; sprinkle with Gouda. Drizzle with 1 cup caramel sauce. Spoon remaining bread mixture over top, pressing down lightly.
Bake, covered, for 20 minutes. Uncover; bake for 20-25 minutes longer or until center is set and a thermometer inserted in bread mixture reads 160°F. Serve warm with remaining caramel sauce.
Recipe and photo © Dairy Farmers of Wisconsin