U.S. Championship Cheese Contest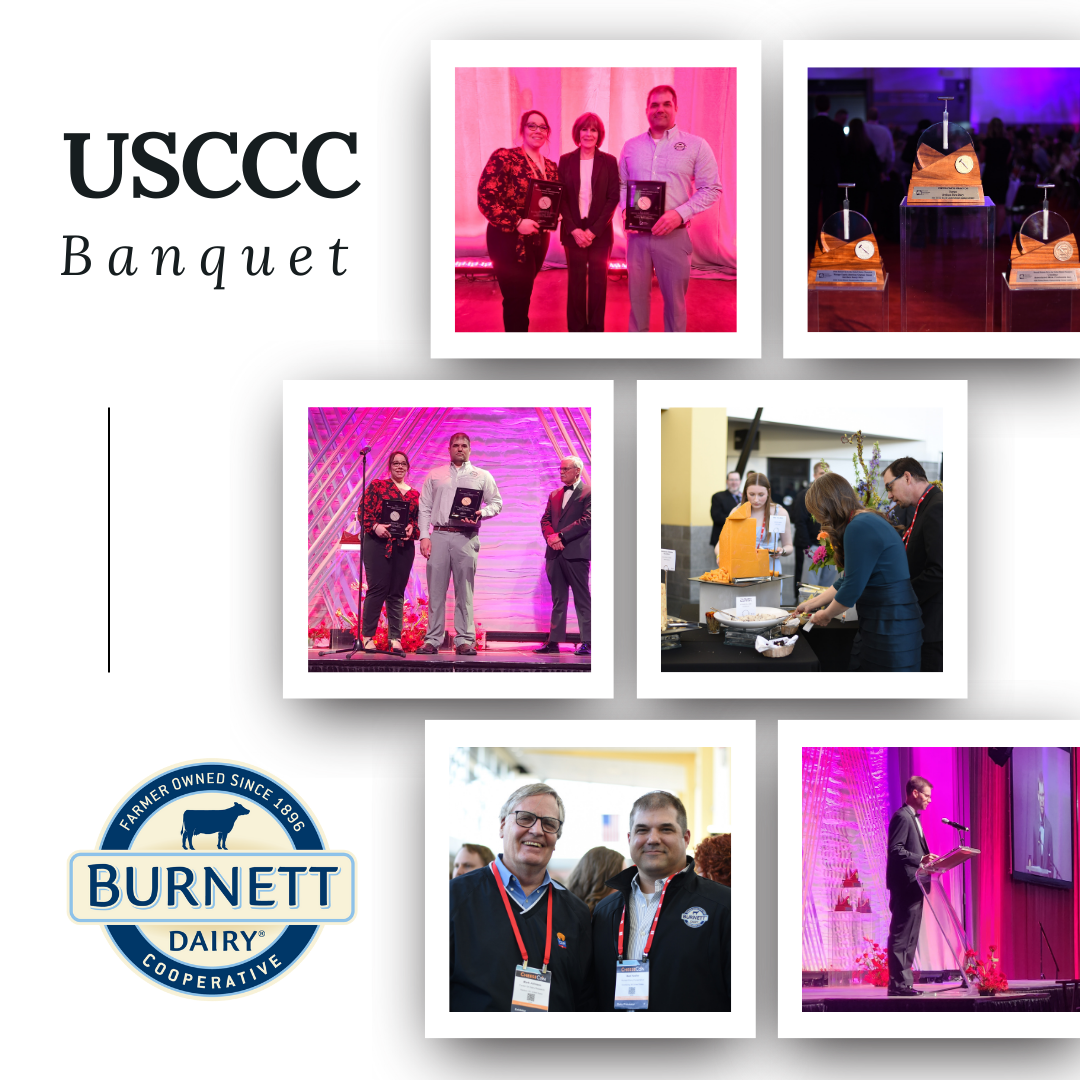 Burnett Dairy Cooperative's Smoked String Cheese earned first and second place awards in the flavored string cheese category at the 2023 United States Championship Cheese Contest held in Madison, Wisconsin on Feb 21st. Cheesemakers Matt Hoefler & Serene Vogal accepted the awards at the Alliant Energy Center in Madison, WI on April 6th. The Smoked String Cheese was crafted by the production team at Burnett Dairy. 
Out of 100 points, our first-place winner scored 99.625, and the second-place winner scored 99.475. Several cheesemakers from across the company were excited to participate in the USCCC this year. Burnett Dairy entered other cheeses into the competition and with the scoring system being so tight, they placed lower than 3rd place.
"This is a great accomplishment and honor for Burnett Dairy Cooperative," said Jeff Pfau, Chief Sales Officer. "We have very talented cheesemakers at Burnett Dairy that have proven they are skilled at making many different types of cheese,"
Burnett Dairy has won several awards over the years. In 1988 Dale Olson won the World Grand Champion Cheesemaker Award and the legacy begins. Bruce Willis, Rob Stellrecht, Matt Scanlon, Martin Scanlon, Steve Tollers, Earl Wilson, and Jill Syverson have all been recipients of cheesemaking awards for Burnett Dairy Cooperative.
Our cheesemakers and production teams from Wilson, WI at the Cady plant and the Grantsburg, WI plant take a lot of pride in making award-winning cheeses. The United States Championship Cheese Contest (USCCC) is the largest and most respected technical cheese, butter, yogurt, and dry dairy ingredient competition in the world. A team of skilled technical judges evaluates the entries on their flavor, body and texture, salt, color, finish, packaging, and other appropriate attributes. The next USCCC will be held in March 2025. And Burnett Dairy will be ready to enter the competition again.