Zesty Double-Decker Gold'n Jack Grilled Cheese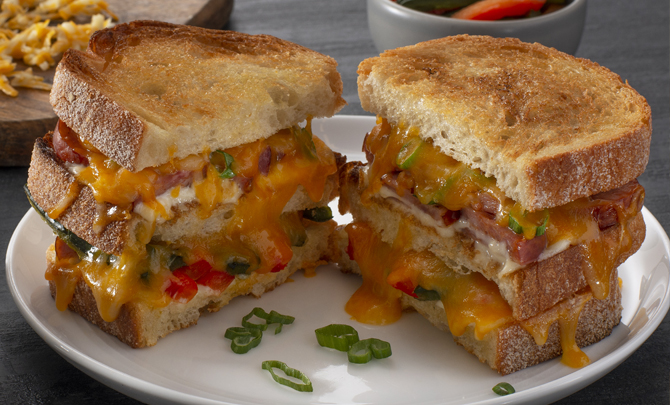 Recipe Description
This double-loaded grill cheese is an ooey-gooey, tasty sensation that is sure to please any hungry crowd.
Ingredients
1 red bell pepper, halved and seeded

1 poblano pepper, halved and seeded

1 tsp vegetable oil

1/2 cup mayonnaise

1 tsp Dijon mustard

2 cloves garlic, minced

6 slices fresh French loaf bread (each 1/2-inch thick)

7 oz Cady Creek Farms Gold'n Jack Cheese, shredded

2 oz thinly sliced cured chorizo sausage

4 scallions, thinly sliced

2 tbsp butter, softened
Preparation
Preheat broiler.
On foil-lined baking sheet, arrange red pepper and poblano halves. Brush with oil. Broil for 5 to 7 minutes or until skins start to char and blister.
Transfer roasted peppers to medium heat-proof bowl and cover with plastic wrap; let stand for 10 minutes. When cool enough to handle, peel and discard skins and slice flesh into thin strips.
In small bowl, stir together mayonnaise, mustard and garlic until blended.
Divide mayo mixture among 4 bread slices. Top 2 bread slices with pepper slices and half the cheese. Top each with a bread slice spread with mayo mixture. Top with chorizo, scallions and remaining cheese. Cap with remaining bread slices. Spread butter on outer bread slices.
In large skillet set over medium-low heat, and cooking in batches if necessary, cook sandwiches, turning once and pressing lightly, for 4 to 6 minutes or until bread is toasted and cheese is melted.
Cut each double-decker grilled cheese in half to serve.  
TIP: Serve grilled cheese with tomato salsa, salsa verde, guacamole or sour cream for dipping.