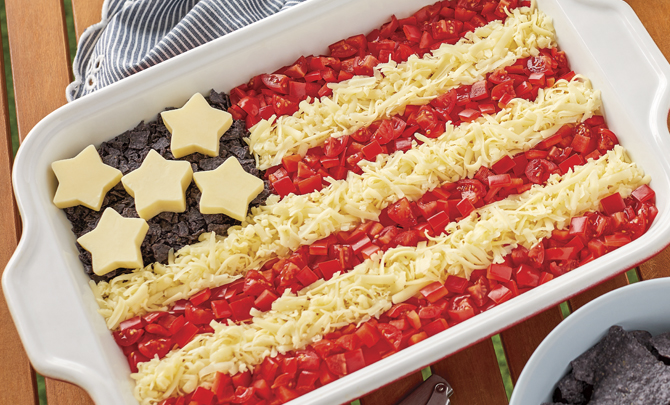 Recipe Description
Let flavor ring! A quick, simple and festive dip for the 4th of July!
Ingredients
2 packages (8 ounces each) cream cheese, softened
1 jar (16 ounces) chunky salsa
1 cup (8 ounces) sour cream
8 ounces Burnett Dairy Colby cheese, shredded (2 cups)
1/2 cup chopped green onions
3 bags (9 ounces each) blue corn tortilla chips, divided
2 blocks (8 ounces each) Burnett Dairy Monterey Jack cheese
1 cup quartered grape tomatoes
1 large sweet red bell pepper, chopped (1 cup
Preparation
Beat the cream cheese, salsa, sour cream, Colby and green onions in a large bowl until blended. Spread Colby mixture in the bottom of a 13 x 9-inch baking dish.
Measure 1 cup crushed tortilla chips; set aside the remaining chips for serving. Arrange the crushed tortilla chips in a rectangle on top of Colby mixture, about 5 x 4-inches.
Cut 1 block (8 ounces) Monterey Jack in half into two blocks, each about 1/2-inch thick. Cut slices with a 1 1/2-inch star cookie cutter, using the handle of a small spoon to press and release cheese from cutter at star points. Place stars on chips. Shred 2 cups (8 ounces) from the remaining Monterey Jack.
Combine tomatoes and red bell pepper in a medium bowl. For stripes, arrange tomato mixture and shredded Monterey Jack in alternating rows, each about 1-inch.
Cover and refrigerate for at least 1 hour or until serving. Serve with the reserved tortilla chips.
Recipe and photo © Dairy Farmers of Wisconsin