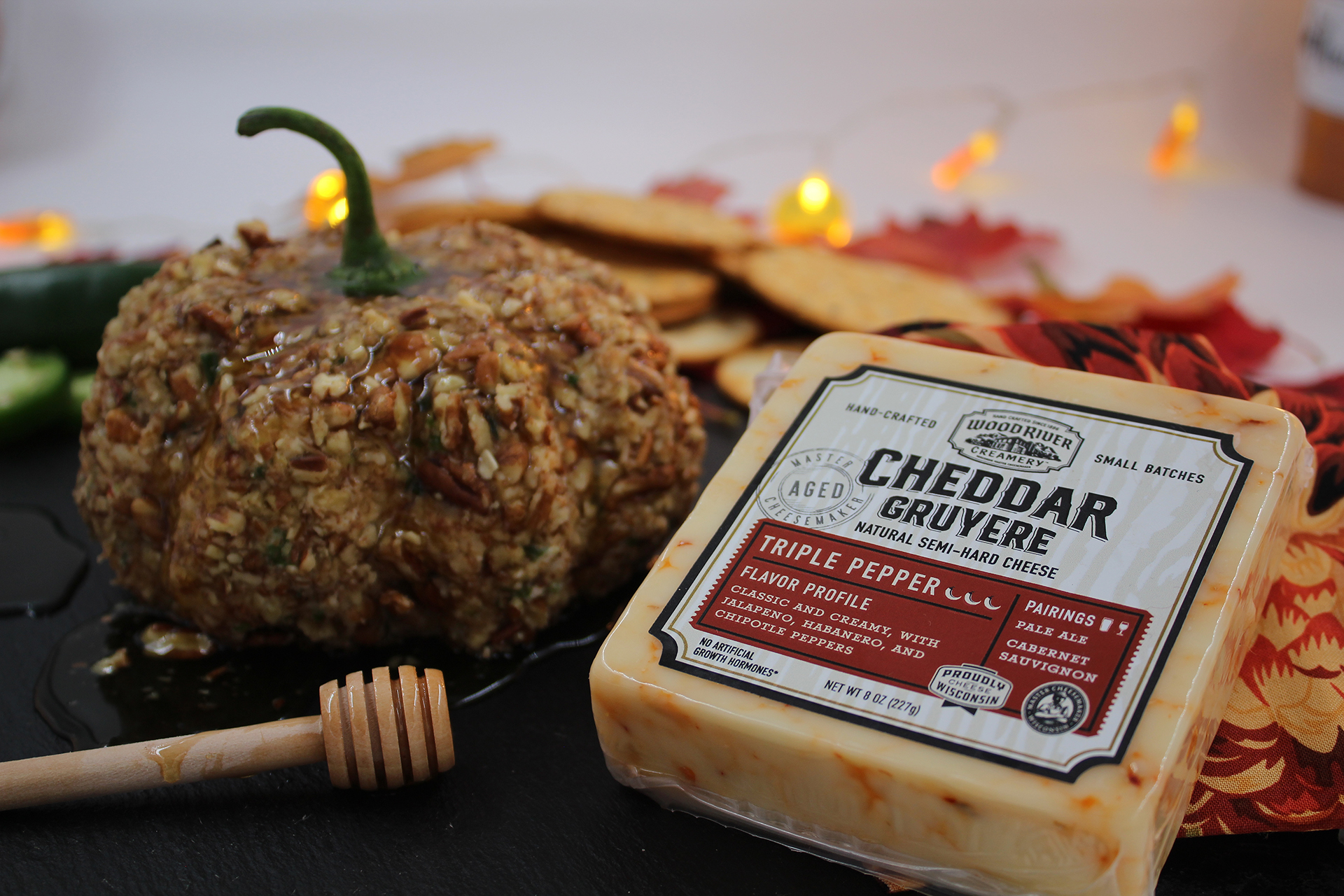 Recipe Description
Add a crowd-pleasing twist to your holiday menu with our Candied Pepper Pecan Cheese Ball – featuring Wood River Creamery Triple Pepper Cheese. It's the perfect blend of spicy and sweet that will leave your guests craving more! P.S. It's got bacon in it :)
Ingredients
1 cup (about 7 strips) thick cut bacon, cooked and finely chopped
½ cup or 1 bunch green onions, finely chopped
8 oz cream cheese
8 oz Wood River Creamery Triple Pepper, shredded
1 jalapeno, finely chopped;  save top of the jalapeno pepper if planning to form into a pumpkin
¼ cup sour cream
1 ½ tsp garlic powder
½ tsp ground pepper
½ tsp salt
1-2 cups Chopped Pecans
Honey for Topping
Preparation
To cook the bacon, place strips on a cookie sheet and bake at 425

˚

for 15 minutes. Place bacon strips on a paper towel lined plate to cool before chopping.

In a mixing bowl, add the bacon, green onions, cream cheese, shredded cheese, jalapeno, sour cream, garlic powder, ground pepper, and salt.

Mix on low to start and then increase to medium speed, being sure to scrape the sides down a few times so everything is mixed well.

Spread chopped pecans onto a parchment lined surface.

Time to get your hands dirty! Using a spatula, scrape the cheese mixture in the bowl to form a ball, then flip the ball onto the chopped pecans and proceed to shape a ball with your hands, ensuring to cover the entire surface area with chopped pecans.

To form into a pumpkin, squish the ball slightly with your hand from top down so it's flat on the bottom and top.

Using bakers twine or a clean piece of cotton string, place under ball and bring both ends of twine/string up to meet at the top, creating the creases of the pumpkin. Be sure not to cut too deep with the twine/string, squeeze just enough to get the crease started and smooth out with your finger. Do this 3 more times crossing your previously made creases.

Liberally drizzle honey over the cheese ball and place your saved jalapeno stem on top of the ball to create the pumpkin stem.